Money has exchanged hands, so it's official. Angelyn and I are headed to
Austin, Texas
, for Spring Break. My dad moved to Austin about a year ago, and ever since I've wanted to drop in and check out the city that
MovieMaker Magazine
ranks the
second best city to live in as an independent filmmaker
. It just so happens that UCF's Spring Break this year falls within the dates for the
South-by-Southwest Film & Music Festival
, Austin's biggest annual event and one of the top festivals in the nation. Unfortunately, none of my films were accepted this year, but they did accept two projects from my friend
Ben Piety
, both his undergrad thesis short and a music video for
the Heathens
' "Stickin Around" (a song that many have deemed my theme). I'll be seeing Ben and my friend
Scott Uhlfelder
, who shot both projects, at the festival. Hopefully I'll get to attend their screenings, but the schedule hasn't been released.
Now, allow me to rap for a minute on the wonders of
Priceline.com
. Not only does Priceline offer you the only place on the web where you can purchase airline tickets while watching these
excellent commercials
starring "
the Shat
," but the prices they offer through their Name-Your-Price service are "the Shit." I just got round trip direct flights from Orlando to Austin for $200 per ticket. Granted, this is the plane we'll be flying on: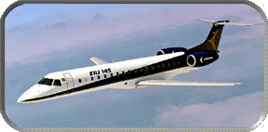 Angelyn's first question was, "Are we going to make it there alive?" To which I responded, "Well, none of the planes have landed safely yet, but for some reason they keep trying."
Regardless of whether we make it back alive, I'm really looking forward to this trip. It will be nice to see my dad in his natural habitat, it will be nice to see Scott and Ben, and it will be nice to attend one of the world's most renown film and music festivals. Most of all, however, I'm excited to get to know Austin. In spite of my "Stickin Around" reputation, I've become more and more interested in the idea of leaving Orlando in a few years, after I finish my MFA and Angelyn finishes her BA. Austin seems like a natural destination. The
University of Texas
has a well-respected
film school
where I could potentially teach, and there's definitely more cultural support for independent film from the community in Austin than there is in Orlando. For me, this trip is as much about scouting my future as it is about enjoying film, family, and friends.
For those of you who haven't yet tired of my plant-life photography, I present to you a little something I call, "February Autumn":