Thanks to my friend Carrie for bringing this one to my attention: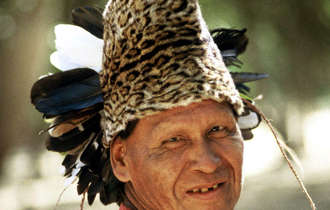 The Ayoreo-Totobiegosode people (South America's only uncontacted tribe outside of the Amazon) are being
threatened by illegal bulldozing
as ranchers clear land for cattle. Apparently, the government of Paraguay is doing nothing to enforce its laws.
From Survival International:
"Uncontacted tribes are exceedingly vulnerable to any kind of contact because of their lack of immunity to outsiders' diseases. In an emergency report to the UN last year, Survival described the threat to the Totobiegosode as 'the most serious threat to tribal peoples anywhere in the world.'"
On the bright side, once all their land's destroyed, the survivors should be ripe for Christianity.