I played my first poker tournament tonight and lasted three hours, ranking 18th out of 31. I guess that puts me in the bottom 42%. Oh well. I lasted longer than several more experienced players and made no less than two incredible comebacks after nearing the brink of sudden death on as many occasions. I had a lot of fun and could definitely see myself engaging in more low-stakes illegal gambling in the future.
Speaking of statistics,
BoingBoing
pointed me to
this fantastic site
today. Instead of journaling her thoughts on life in words like other aspiring bloggers, Jessica Hagy captures her impressions in little Venn diagrams on index cards. You can even buy a shirt for a friend.
In other news: a New York CBS affiliate has put together a
fun little slideshow
of notable watercooler conversation topics of 2006, such as the one-eyed kitten and the thirsty town of Mustang, Texas, which can't afford to water its citizens after losing revenue from a closed stripclub; Sledgehammerer
Peter Gabriel
has written
a blog on the Huffington Post
about how he and his friends are using advancements in video technology to expose the atrocities of the
Burmese government
; and the
Orlando Sentinel
Health Check blog has reaffirmed my obsessive-compulsive mysophobia with its
write-up on the ins and outs of handwashing
, repeating the statistic that "only
75 percent
of men lather up, versus
90 percent
of women."
I'm working this week on a short film for a group called the
Compass Film Academy
. I'm the Unit Production Manager/1st Assistant Director, and I'm looking forward to the time on set in a position I don't often fill (1st AD). However, before we get to that point, I have a lot of work to complete in the coming week. It's a low budget shoot with some pretty sophisticated production demands, and I expect my employers will get their money's worth of my time and then some. Today I did some location scouting, and in the process, I took my Picture of the Day. I call it "Did I Miss My Exit Somewhere? (Revised)"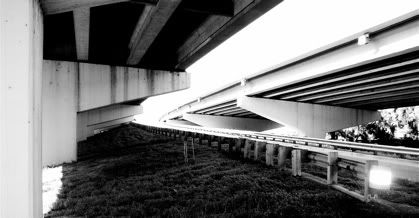 Editor's Note: my friend and brilliant photographer/cinematographer Scott Uhlfelder critiqued some of my photos today, and he helped me see that the first version of the above photo has a real imbalance of space. I cropped it a bit and posted the result here. I think this has greatly improved the dynamic of the photo.